포리포 풀빌라 단지
제주도의 아름다운 협재 해변에 면한 풀빌라 단지 계획이다. 좁고 길며,  20각 이상의 다각형을 이루는 대지를 효율적으로 활용하고, 해변조망을 최대한 이용하기 위해 3개의 중심축으로 숙박동을 구획했다.
Pool villa complex 'Jeju Poripo'
Jeju Island is just a pool villa facing the beautiful Hyup-jae beach. It is narrow and long due to special geographical condition, efficiently utilizes polygonal land of more than 20 angles, and compartmentalized by three central axes to utilize the beach view as much as possible.
위치 : 제주시 한림읍
용도 : 휴양펜션 + 근린시설
규모 : 지하1층/지상2~3층
면적 : 연면적 1,200m2
상태 : 건축허가완료 / 공사준비
단지는 두 개층의 단독채 구성을 기본 유니트로 하는 숙박시설 3개동과은 1개 동의 식음시설 및 주인세대로 이루어진다. 각 동의 축으로 생긴 교차와 틈과 레벨차로 인해 건축 산책로를 만들어 내며, 주변의 해안경치와 더불어 흥미로운 공간감을 방문객에게 경험케 한다.
The entire complex consists of three floors and a single food room with two single floors as basic units. Separate cores create an architectural walkway due to the intersection of the shafts and the level difference and make the visitor experience an interesting sense of space along with the surrounding coastal scenery.
숙박동 각 유니트 간 침실은 공유벽체가 없도록 교차배치하여 실내소음간섭을 없애고, 각 객실의 야외공간(개별풀장 및 정원)도 소음의 영향을 최소화 하도록 계획했다.
The rooms between the units are arranged so that there is no shared wall to eliminate the noise interference from the room, and the outdoor space including the pool and the garden are also planned to minimize the influence between the units.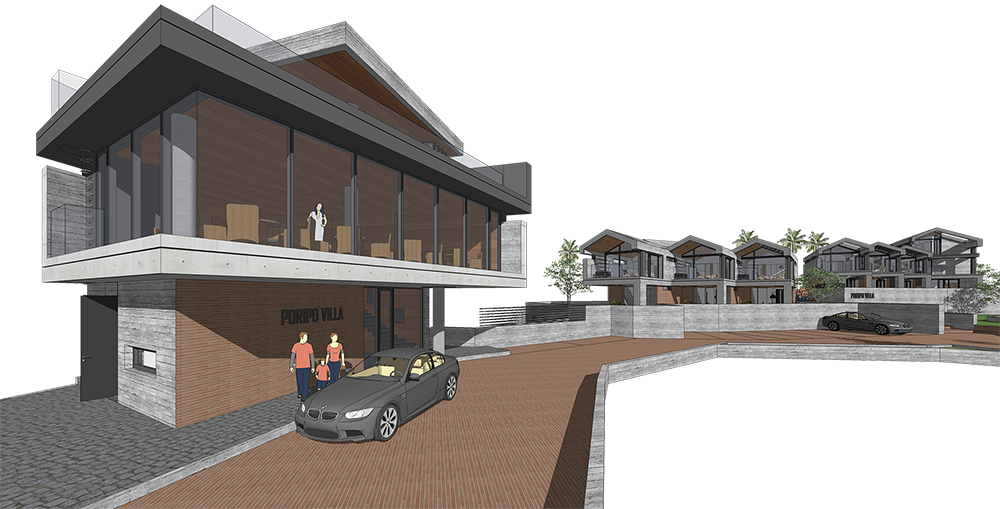 부지 진입부에 위치한 식음시설은 1층은 방문객 지원시설, 2~3층은 레스토랑으로 활용될 예정이다. 2층과 3층은 바로앞 해변이 내려다 보이는 최상의 휴게조망공간이 되어 해변관광코스를 걷는 이들을 이끌 것이다.
The food and beverage facilities at the entrance of the site will be used as a visitor support facility on the first floor and as a restaurant on the second and third floor. The second and third floors will be the best resting place overlooking the beach in front, leading to those who walk on the seaside course.