이주택은 도심외 택지조성지역에 자리 잡고있다.  현재는 한적한 지역이지만 택지라는 특수성 때문에 향후 주변대지에 건축물이 밀도 있게 배치될 것을 고려하여 계획한다. 전면도로 건너엔 고층아파트까지 들어올 계획이므로 주변의 경관요소는 한시적으로 즐길 수 밖에 없고, 오히려 향후 프라이버시가 침해될 것에 대해 더욱 고민이 필요했다.
This house is located in a residential area outside the city center. Due to the specificity of the residential area, it is currently a secluded area, but we plan to consider the densely arranged structures on the surrounding land. We plan to come to high-rise apartments across the street from the front road, so we can not enjoy the surrounding scenery elements for a limited time, but rather worry about privacy violation in the future.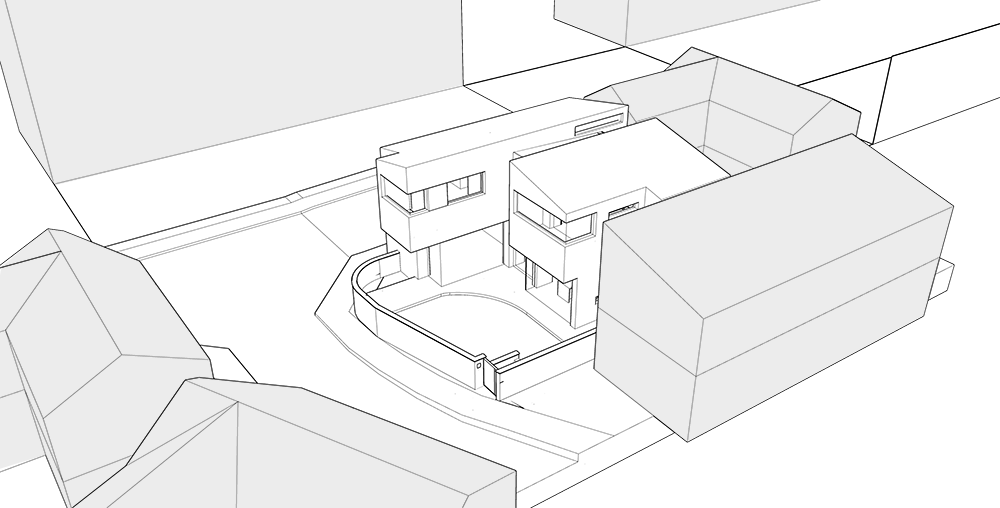 프라이버시의 노출을 고려하여 열림공간은 주변환경을 고려하여 최소화한다. 노출의 영향이 적을 곳으로  마당을 두고 창을 크게 두어 일조와 채광을 집중시킨다.  지세로 인해 서향에 장시간 노출됨을 고려하여 각 실에 테라스 벽체 및 고창계획을 통해 영향을 최소화 하도록 했다.
Considering the exposure of privacy, the opening is assigned to the surrounding environment to minimize it, and the yard is placed at the point where the opening is maximized to concentrate the sunshine and the enjoyment of the lighting. Considering that the ground is exposed for a long time due to the earthquake, the effect of each terrace is minimized through the terrace wall and highland planning.
11자 구조의 듀얼매스인 이집의 1층은 ㄱ자 구조의 복합형태로 마당을 감싸 안는다. 전체적인 볼륨은 작은 집이지만 실생활의 수평, 수직조닝 영역을 효율적으로 분리시켜, 성인이 된 자녀들과 부부의 생활권이 보장되도록 했다.
The dual-mass structure of the 11-character structure embraces the yard in the form of a composite structure. The volume is a small house, but through the segments of the mass, it effectively separates the horizontal and vertical zoning areas of real life so that adult life span of children and couples is guaranteed.
주부의 동선이 중요한 1층의 공용공간은 생활물품을 바로 다용도실에 들여놓도록 외부 주차장과 다용도실의 위치를 고려하였다. 주방의 위치는 가족의 왕래를 체크할 수 있다. 1층 공용공간인 식당과 거실은 정원마당을 감싸 안고 데크를 통해 실외 동선도 연결되어 있다.
The first floor considers the circulation centered on the housewife. I put the parking lot item right into the utility room, and the position of the kitchen is open to check the passage of the family. The restaurant and the living room are surrounded by a garden courtyard, so indoor and outdoor activities are naturally connected.
사적공간으로 구성된 2층은 계단실을 중심으로 주인부부와 자매의 존으로 구분된다. 2층의 각 실 발코니는 늦오후의 강렬한 석양을 제어하는 가람벽이 된다.
The second floor, which is composed of private space, is divided into a master 's couple and a sister' s zone mainly in the staircase. The balconies of each room on the second floor serve as a medium to control the intense sunset after the afternoon.
가족 구성원의 관계성과 프라이버시를 고려하여 배치된 실내공간. 각 실은 최대한 이격시켰지만, 자매가 이용하는 욕실과 드레스룸은 공유하여 공간의 활용성을 높였다. 드레스룸은 공간벽으로 구성되어 구성원의 변화 및 활용성에 따라 구조를 쉽게 변경하도록 했다.
Interior space arranged considering family members' relationship and privacy. The rooms of each member were separated as much as possible, but the sisters' bathroom and dress room were shared to enhance the space utilization. The dressroom was divided into a space wall and planned to change its structure according to the change of its members.